Main content starts here, tab to start navigating
Concord
25 Market Street Southwest,
Concord, NC 28025
980-777-8129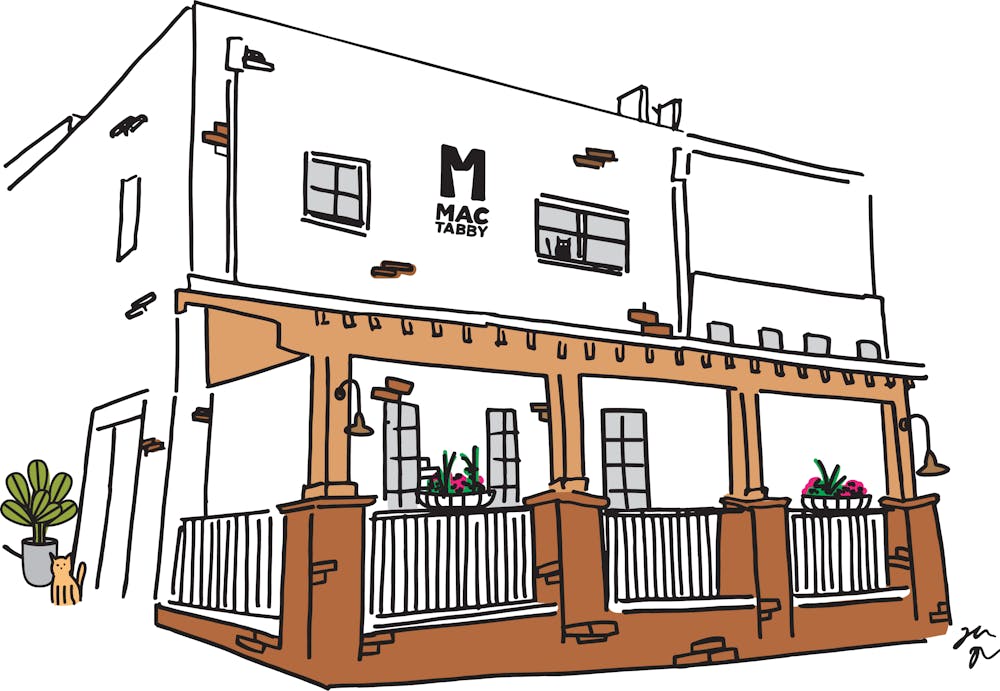 Mon - Thurs: 11 am - 8 pm
Fri - Sat: 11 am - 9 pm
Sunday: 11 am - 6 pm
Mac Tabby | Concord is housed inside a historic building from 1886. The original exposed brick and wooden beams, marked with handwritten names of those from the past still stand today: if only walls could talk! Refurbished windows now separate the cat lounge from the entrance, original to Downtown. Our bar is constructed of 118 year old pine, complete with original saw marks, from a tree that once stood on farm in Concord. The cafe and cat lounge are separate; please come to enjoy one side of our space - or both! Our 300 square foot covered front porch, or outdoor picnic bench seating area is a perfect spot to catch up with friends, or unwind after work with a tasty beverage from our bar. The historic feel of our space takes you back! Mac Tabby Concord is wheel chair accessible.
Parking is convenient with two parking garages flanking either side of Market Street. The city parking decks are less than 1 block from our location and well lit. Please use the following addresses for your GPS:
28 Cabarrus Ave W, Concord, NC 28025 OR 81 Spring St SW, Concord, NC 28025.
Street parking on Market Street is also an option, but is subject to availability.
We are nestled in Historic Downtown, a pedestrian-friendly shopping and business district! Stroll through shops, restaurants, galleries, museums, gardens, and event spaces while vising Concord's ONLY Cat Cafe! You'll discover a collection of independently-owned and surprisingly unique experiences! Just a short drive from Charlotte and the lake area, and conveniently less than five miles off Interstate 85.