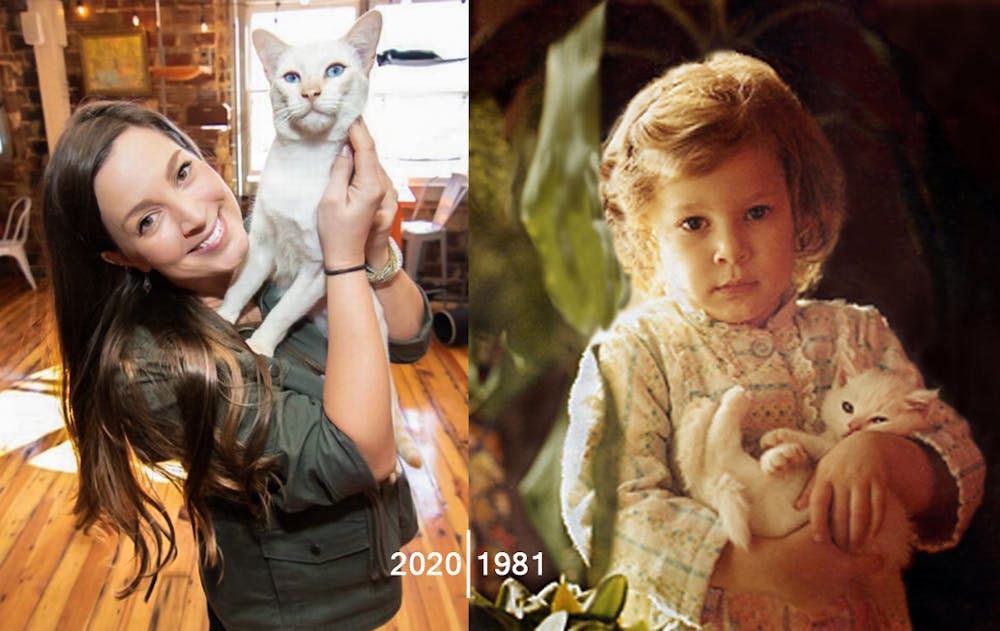 Hi, I'm Lori. Cats have been my calling and passion for over 39 years. I have all kinds of foster kitten stories, stemming all the way back to early childhood, as you can see above. A few years ago, my heart kept getting pulled to help this world on a grander scale. I knew there was something more I was supposed to be doing. My husband Nick looked at me one night knowing I was struggling and said, "if you took all logistics out of it - what would you do?" The answer was immediate and clear, and it was like a light went off. At that moment, I was on the path to opening Charlotte's first cat cafe! The time was NOW. The logistics were scary, but that was just fear... and we pushed past it every time and kept moving forward. Regardless of where the path would lead, we were teaching our three teenage sons that you need to put fear in its place and live with intention, follow a passion and go all in... so in that case, regardless of where the journey lead - it would still have immense meaning to our lives. Gratefully, we met amazing people along the journey and couldn't have done it without those who supported us from the beginning... especially our 299 Kickstarter backers who loved us enough to make this daydream a reality. We opened Mac Tabby in December of 2017 and are now witnessing the impact it has made on our community and the lives of many homeless cats! I am forever grateful to this big, beautiful universe... the way synchronicity played such a huge part, the signs that kept leading us down the right path, the trust in our guts, the journey, and the timing of life. We are now able to witness a space that is overflowing with love for animals... and fellow humans. I may have done the work to get it started... but each of you are organically making Mac Tabby what it is, and I am honored to be along for the ride with you.
"And suddenly you know; It's time to start something new and trust the magic of beginnings" -Meister Eckhart
THE MAC TABBY NAME...
Nick and I adopted OUR first kitten together from the ASPCA in 2001 from Easton, PA. He was our first "baby" together. Kitty was along for a 17 year ride... we were married, moved five times, had three children, we did a lot... he was there through it all!
To honor the memory of our awesome 'Mackerel Tabby' cat, we named our cafe Mac Tabby! Mackerel Tabby cats have striped rings around their tail and legs, a "necklace" of stripes on the front of their chests, and bands of solid or broken stripes running down the sides of their bodies. He was such a cool, beatiful cat and a photo of him hangs in our entrance way... take a look!
Kitty's memory lives on in the creation of Mac Tabby, which will help hundreds of homeless cats, just like he was...
THANK YOU...
...from the bottom of my heart...
Since the start of this venture we have been immensely blessed in so many ways with those who have dedicated time and resources... invested in us emotionally and financially... and those who have offered their talents and knowledge to the creation of Mac Tabby. To my beautiful sister, Kim: thank you for helping me think through this over and over again and for supporting me in more ways than one. To my crazy supportive friends and family: words aren't enough, but I have faith you know how I feel! To our friend, Zac Logsdon: thank you for your help on the perfect logo creation, people constantly mention how much they love it. To Carlos Espin, owner of Area 15, our very first location: thank you for opening your space to us when so many others wouldn't. You gave us our start. Mom and Dad, thanks for fostering the quirky parts of my personality since I was born, and allowing me to be me - no matter what. It gave me the confidence to follow my dreams. To all 299 backers: we wouldn't be here without you... you're a part of history!
There are literally no words to express my gratitude and "thank you" will never be enough.
Mac Tabby has been created out of positive energy and love, something we know that each cat that comes through our doors will continue to feel. It's the foundation that their foster café was built upon!
Thanks to everyone who has helped guide this journey, and thank YOU for your interest in our story... we can't wait for you to make memories with us. See you soon...
Take care and be well, xo
=^..^= Lori