Main content starts here, tab to start navigating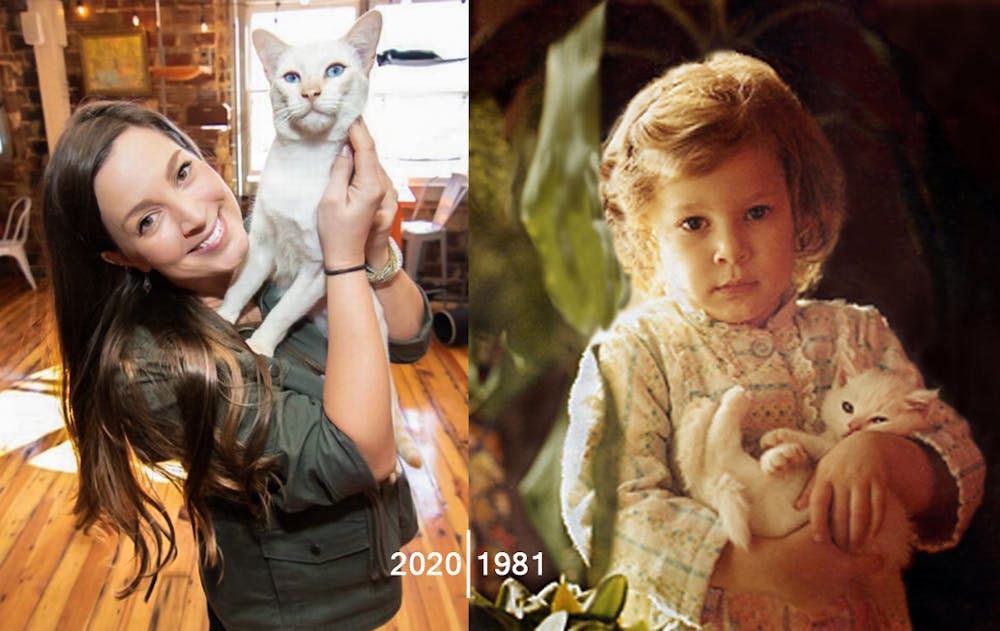 ( Photo credit: Alex Cason / Charlotte Five 2020 | My Dad / Living room 1981 )
Hi, I'm Lori. Cats have been my calling and passion for over 40 years, stemming all the way back to early childhood (see picture above!) A few years ago, a decade into my journey as a professional photographer, my heart was called to do something more in this lifetime. One night, my husband Nick asked me one question, "if you took all logistics out of it - what would you do?" The answer was immediate and clear. In that moment, the light came on and I was on my path to opening Charlotte's first cat cafe! Yes, the logistics were scary. But we kept pushing past the fear, deciding instead to move forward with passion and intention - a key lesson we wanted to instill in our three teenage sons. Gratefully, we met amazing people along the journey and we would not be here today without them... especially those who supported us from the beginning, including our 299 Kickstarter backers who loved us enough to make this daydream a reality, the property owner who gave us a chance (and our first lease!) and our first rescue partner, Catering to Cats and Dogs, (with whom we worked with for four years and saved over 650 cats together!) Mac Tabby Cat Cafe, Charlotte's first cat cafe (and second in the state of North Carolina) opened on December 16, 2017 and we immediately witnessed the impact it made on our community and the lives of many homeless cats (and the humans who love them!)
In 2018, the opportunity for a new location presented itself - and exactly one year later, we were once again on the move! We knew we had found our forever home in the heart of NoDa: Charlotte's Arts and Entertainment District. We re-opened our doors to our new location on February 2, 2019 at 3204 N. Davidson Street, Charlotte.
With our first location chugging along, opening a second location felt right. After some soul searching, we decided on historic Downtown Concord, North Carolina. The journey started once again in early 2020, with ideas swirling around and plans falling into place... until March 2020 when the pandemic ripped through our country and changed the course of every small business. I will never forget the feeling of disbelief and fear of the unknown as we closed our doors in NoDa and walked out of an empty dark space on March 25, 2020. No cats. No customers. No idea what would happen next... every small business owner felt the weight. A small business is extension of the owner's heart, and it was heartbreaking for many.
Through support of our community and pivoting when necessary, we prevailed and were able to open our doors again on May 22, 2020. What a blessing! It seemed "crazy" to continue with our plan of opening our second location in the middle of an unprecedented pandemic... but fear never stopped us before, so it was time to move on with it! I can go on and on (literally, ask me sometime) about how trusting the timing of your life, having faith in the energy of the world and beyond, staying aligned with your purpose and 'going with your gut' instincts have lead the way to where we are today... but I digress for the sake of keeping this paragraph short (ish). We just know that Mac Tabby Concord is exactly where it was meant to be. We opened our doors on May 1, 2021 at 25 Market Street SW, Concord.
Five months later, on October 19, 2021, we began a new partnership with local rescue, "Princeton's Meow" in Concord, NC and reached a milestone ONE THOUSAND CATS ADOPTED on August 23, 2022!
I am forever grateful to this big, beautiful universe... the way synchronicity played such a huge part in the most amazing ways, the signs that kept leading us down the right path, the trust in our guts, the journey, the timing, the gratitude, the cats, the kind humans.... the CHANCE we have been given to live a dream. It isn't taken lightly. We are get to witness two little spaces on this planet that are overflowing with love for animals... and fellow humans. I may have done the work to get it started... but each of YOU continually making Mac Tabby what it IS, and I am honored to be along for the ride with you.
"And suddenly you know; It's time to start something new and trust the magic of beginnings" -Meister Eckhart
THE MAC TABBY NAME...
My husband, Nick, and I adopted our first kitten together from the ASPCA in 2001 from Easton, PA. He was our first "baby" together. Kitty was along for a 17 year ride... we were married, moved five times, had three children, we did a lot... he was there through it all...
To honor the memory of our awesome 'Mackerel Tabby' cat, we named our cafe Mac Tabby! Mackerel Tabby cats have striped rings around their tail and legs, a "necklace" of stripes on the front of their chests, and bands of solid or broken stripes running down the sides of their bodies. He was such a cool, beautiful cat and a photo of him hangs in Mac Tabby.
Kitty's memory lives on in the creation of Mac Tabby, which will help hundreds of homeless cats, just like he was...
THANK YOU...
...from the bottom of my heart...
Since the start of this venture we have been immensely blessed in so many ways with those who have dedicated time and resources... invested in us emotionally and financially... and those who have offered their talents and knowledge to the creation of Mac Tabby. To my beautiful sister, Kim: thank you for helping me think through this over and over again and for supporting me in more ways than one. To my crazy supportive friends and family: words aren't enough, but I have faith you know how I feel! To our friend, Zac: thank you for your help on the perfect logo creation, people constantly mention how much they love it. To Mr. Espin, our landlord at our very first location: thank you for opening your space to us when so many others wouldn't. You gave us our start. Mom and Dad, thanks for fostering the quirky parts of my personality since I was born, and allowing me to be me - no matter what. It gave me the confidence to follow my dreams. All of our "Cat Crew" staff members since day one... you are all amazing humans that I am honored to have worked with. To all 299 backers... we wouldn't be here without you... you're a part of history!
There are literally no words to express my gratitude and "thank you" will never be enough.
Mac Tabby has been created out of positive energy and love, something we know that each cat that comes through our doors will continue to feel.
Thanks to everyone who has helped guide this journey, and thank YOU for your interest in our story (and for still reading!)... we can't wait for you to make memories with us. See you soon...
Take care and be well, xo
=^..^= Lori